On 23 November 2015, a lecture on Unmanned Aerial Vehicle (UAV) operations regulation was held by Damir Bezik (Croatian Civil Aviation Agency) at the Faculty of Transport and Traffic Sciences. Mr. Bezik, who is the Head of the Flight Operations Department at CCAA, presented the relevant international and national regulation with emphasis on documentation required for class C and D operations.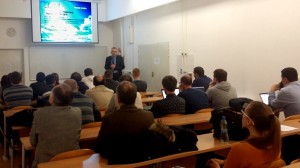 The lecture was intended for second year students of the graduate study program in aeronautics as an addition to the coursework of the two courses: Unmanned Aerial Vehicle Operations and Quality Management in Aviation. Part of the coursework in these two courses is development, building and operation of the UAV (hexacopter) and creation of the documentation needed for the establishment of the UAV operations organization.
The lecture was also attended by prof. Stjepan Bogdan and his team from the Faculty of Electrical Engineering and Computing, prof. Škorput from the Department of Intelligent Transportation Systems (FPZ), and Mr. Tihomir Šašić from the In2 Ltd.