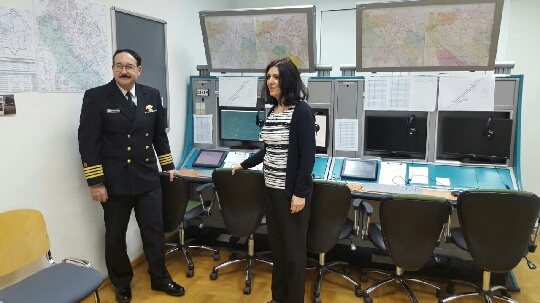 The Faculty of Transport and Traffic Sciences was privileged to host Capt David Moskoff, the Professor of Marine Transportation at the US Merchant Marine Academy, and Mrs. Moskoff on 12th May 2016.
The Professor and Mrs. Moskoff were hosted by the Dean of the Faculty Professor Hrvoje Gold, Assistant Professor Biljana Juričić on behalf of Department of Aeronautics, Professor Kristijan Rogić on behalf of Department of Transport Logistics and Professor Natalija Jolić on behalf of Department of Water Transport.
Assistant Professor Biljana Juričić showed the guests Laboratory for Control of Air Navigation and BEST radar simulator. She explained how the simulator works and gave an insight into the teaching and research life of the Department. She also gave same examples of the skills and techniques the students have to master during their studies, such as navigation techniques, air traffic management skills and techniques, communication radiotelephony skills, etc. Professor David Moskoff and Assistant Professor Biljana Juričić discussed on the simaliraties and differences in the aeronautical and marine fields. They mutualy agreed there are many topics and areas which are similar and therefore meeting points of a further cooperation.
As Professor Moskoff's teaching and research interests are Bridge Resource Management, Marine Simulation and Experiential Learning, Electronic Navigation, GPS/GNSS, ECDIS, Maritime Security, and Port Safety and Law Enforcement Activities, he expressed a great interest for the research and teaching activities of the Department and for continuation of cooperation.