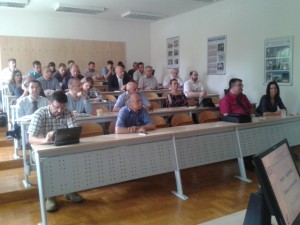 On July 9 2015 a workshop was held for the teachers of HUSK and HZNS at the Department of Aeronautics.
According to HUSK Operations Manual it is defined that all teaching personnel participating in the theoretical training of air traffic controllers has to go through the initial training, renewal of knowledge and standardization of teachers. At the same time, they need to be continuously informed about the quality management system (i.e. acceptable means of compliance), and about the safety management system, as well as have refresher courses on teaching methods. When the above mentioned conditions are met, teachers' certificates will be extended.
The workshop was organized by Biljana Juričić, Ph.D. and Anita Domitrović, Ph.D. Over forty members of teaching personnel participated in the workshop. Biljana Juričić, Ph.D. gave a presentation on EU regulation 2015/340, which affects HUSK training center and she also talked about the changes that are to happen as a result of it in the near future. Anita Domitrović, Ph.D. gave a presentation on pilot training in ATO according to PART FCL. The first guest speakers was Goran Vojković, Ph.D. who gave a presentation on the authorities of the European Union and the adoption of regulations in the EU. The second guest was Kristina Škaler, B.Eng. who talked about various approaches to teaching different generations of students.